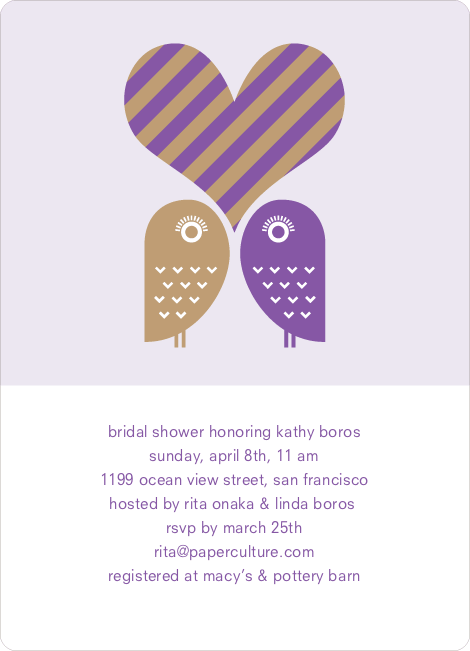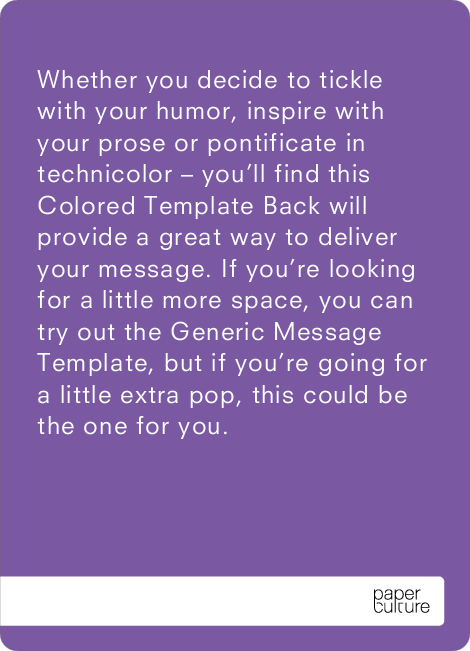 Straight
Corners
no charge
Rounded
Corners
+$0.20/card
Personalize
Whooo knows what true love is? Our little owls do. Are you planning the bridal shower for one of your owl friends who has fallen hopelessly in love? This fun, modern bridal shower invitation captures both the beauty and fun of the upcoming day in a fresh modern package. Printed on premium 100% post consumer recycled paper.
See how Paper Culture compares to Tiny Prints, Minted, Shutterfly, & Snapfish
Card Type:

Flat Card

Card Size:

Cards 6.0" x 4.3" - Flat

Paper:

130lb, 100% post consumer recycled paper

Envelopes:

White envelopes made from 100% post consumer recycled paper.

Delivery Options:

Mailed For You
$0.30 plus the cost of the stamp
Shipped To You
$8.99 flat-rate (via Ground)

Price Per Card:

1-10

$2.59

11-20

$2.29

21-50

$1.99

51-90

$1.79

91-199

$1.59

200-299

$1.49
I like beautiful things ... my inspiration often comes from everyday life: fabrics, furniture, bold typefaces, unusual forms and shapes found in nature ... anything that catches the eye may end up being the inspiration for a new design!
---