The Power of One
Every Order Plants A Tree
"I am the Lorax. I speak for the trees. I speak for the trees for the trees have no tongues."
— Dr. Seuss, The Lorax

One Tree Helps Us Live
One mature tree produces enough oxygen to support a couple for one year.
Have you hugged a tree lately?

One Tree Saves Energy
The net cooling effect of a young, healthy tree is equivalent to ten room-size air conditioners operating 20 hours a day.
If only it made you bikini ready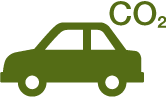 One Tree Reduces Pollution
One tree absorbs as much carbon dioxide as a car produces driving 26,000 miles.
Now that's something to beep about!

One Tree Can Make You Money
A mature tree can increase a home's appraised value between $1,000 and $10,000.
Being green in more than one way!
Because of you, we've planted over
---