"Tis the season and with the season comes festivities, decorating, gingerbread houses, cookie making and of course, holiday shopping. Is your gift list growing and your ideas dwindling? Sometimes it's hard to find a perfect gift especially when you are buying for so many different people whether it is your kid's teacher, your friend's holiday party or stocking stuffer gifts for the family. With this in mind, we've added three new personalized gifts including the Memory Game, personalized ornaments and coasters. We are so excited about these new items. These are all printed on 100% post-consumer recycled paper and as always, every order plants a tree. In addition to these new gifts, we have other personalized gifts that will make your recipients smile with your thoughtful present.
The gift will be a hit with both kids and adults. You have many different front card choices and colors including modern patterns, whales, flowers and many more. Simply select your front and upload 16 unique photos and you'll have your personalized memory game. So much more fun and personalized then using a deck of cards, don't you think?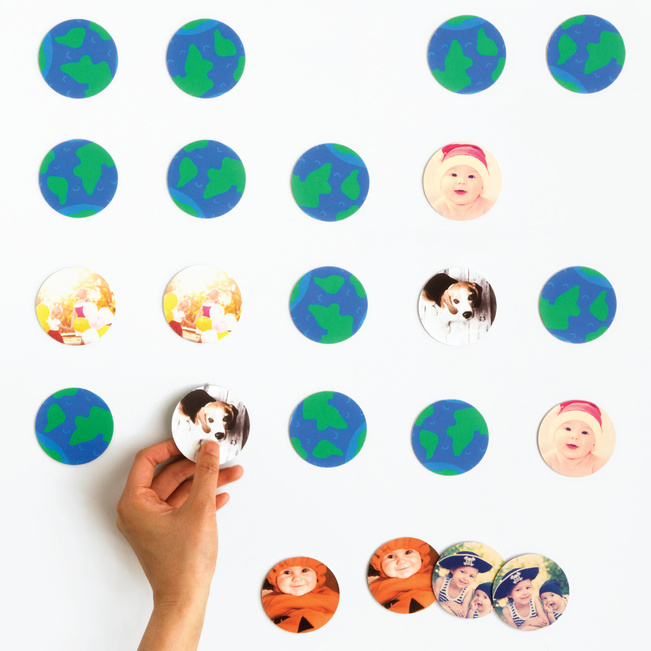 Nothing personalizes a tree more than photos of your family and friends. It's a great way to capture memories from the past years and relive them during the holiday season. Surprise someone special with their own set of 12 ornaments. Start a new tradition and update the photo coasters each year.
These personalized coasters are a fun hostess gift.  You can select from several different front designs and then upload up to 12 unique photos. They are also a great addition to any event from bridal showers to weddings.
If you want to give a personalized gift without photos, stationery is a great option. Having nice thank you and note cards on hand is always greatly appreciated. Browse designs for corporate gifts, teachers and personal stationery for adults as well as kids.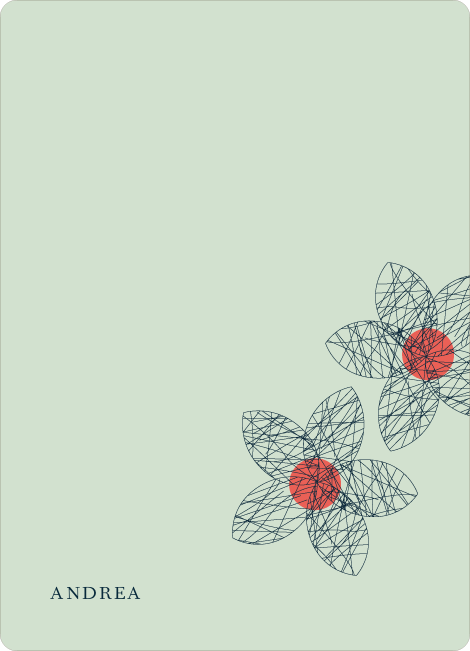 Choose from a number of wall decals featuring designs for kids and adults. You'll find an option for everyone from different designs, colors and number of photos. These custom wall decals will brighten up any space and are removable and repositionable. Unlike most wall decals, these do not contain phthalates or PVC's but made with eco-friendly fabric.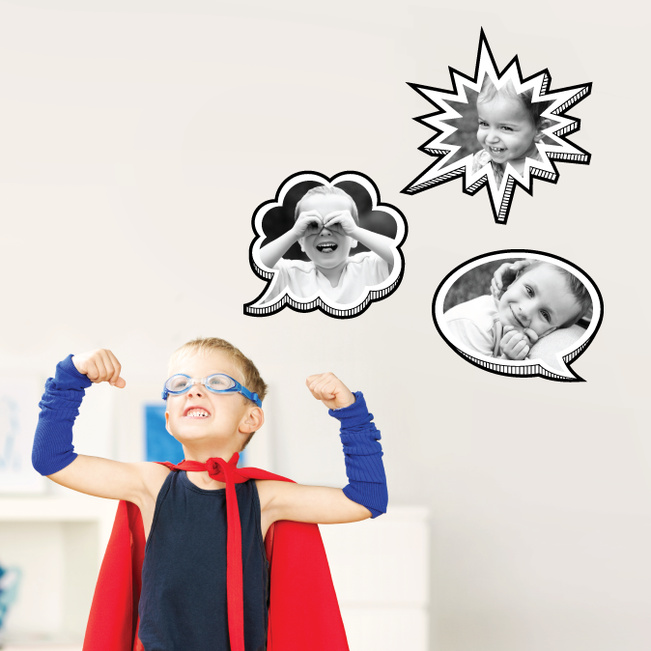 If you are looking for a really unique gift for the wall, our bamboo wall art is for you. Made of bamboo, one of the fastest growing plants in the world, is not only stunning but is very durable and will display your photo beautifully. You can upload your own design or choose from one photo or multiple photo layouts.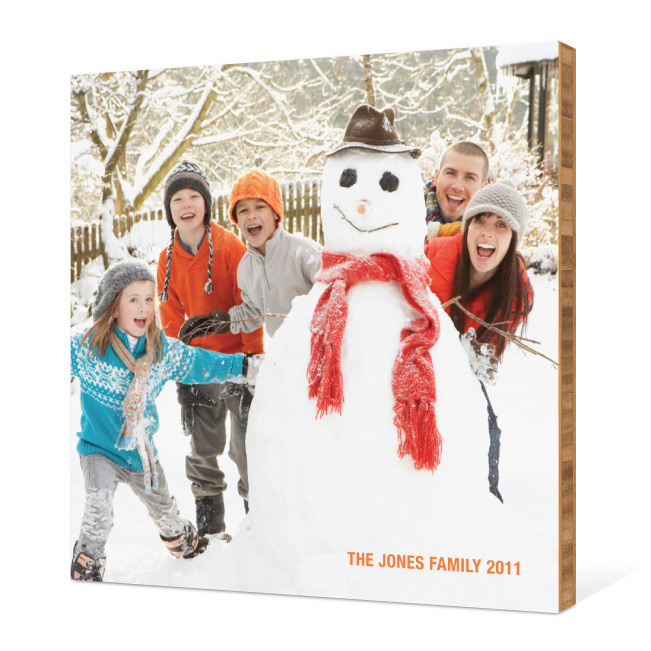 Let us know what you chose.
Happy Holidays!
Dec 11 2013
By Deb DeFanti
Thanksgiving has become my favorite holiday. The warm autumn colors, the chance to share love and thanks with my family and friends, and of course, the wonderful feast. Unfortunately, many people find Thanksgiving to be a stressful ordeal. It doesn't have to be! From invitations, to decorations, to the dinner menu, we have a few ideas to make your Turkey Day festive, delicious, and hassle-free!
To get started, check out our Thanksgiving invitations. We have several different options available for you to customize and match to your dream holiday gathering. We can even address and mail them out for you!
Once your invitations have hit the printing press, you can move on to planning your decorations. I am always inspired by fall's brilliant and rich colors. Autumn leaves and gourds make for eye-catching yet simple décor.
(Photo credit: Better Homes & Gardens, Martha Stewart)
Left: For a beautiful table runner, get inspired by this beautiful photograph from Better Homes and Gardens. Find a few small pumpkins from the local pumpkin patch, line them up down the center of your table, and weave a matching ribbon around them. You can even add branches, greenery, or a garland for an extra burst of color! Top right: I love these place cards from Martha Stewart. The leaves are perfect for any autumn tablescape, and the chalkboard look is very in right now! Best of all, they're incredibly easy to make. Bottom right: Set the mood for a warm dinner with your loved ones with these painted glass votive candle holders, also from Martha Stewart. This would be a fun DIY project (the link will give you simple instructions,) but if you're pressed for time (or aren't feeling very artsy,) go ahead and purchase some glass votives in your favorite fall colors.
Planning and preparing dinner may be the most anxiety-inducing part of the holiday! However, if you schedule carefully, and do everything that you can ahead of time, it's a lot easier to bring the meal together.  Food Network has a great Thanksgiving planning guide to help you out. If you plan things just right, you'll spend less of Thanksgiving in the kitchen, and more of it mingling with your loved ones!
Here's a few favorite recipes to add to your holiday menu!
(Photo credit: The Pioneer Woman, Simply Recipes, Smitten Kitchen, How Sweet Eats)
Top left: A juicy and flavorful roasted turkey (and brine,) courtesy of The Pioneer Woman. She even includes step-by-step photos and instructions! Bottom left: My favorite tip for the perfect mashed potatoes: use a potato ricer! It's difficult to smooth out all the lumps out with a fork or potato masher, and using a hand mixer can result in a gluey texture. A potato ricer delivers smooth, creamy, fluffy results, and it's much faster than a regular potato masher! Try Simply Recipes' garlic mashed potatoes for a delicious yet simple take on this traditional side dish. (Another tip: throw the roasted garlic in with the potatoes into the ricer to avoid large garlic pieces.) Top right: For dessert to feed a crowd, Smitten Kitchen takes her go-to apple pie recipe (my personal favorite) and turns it into an entire sheet of pie! (Tip: apple pie is always best the day it's made, but if you premake the crust the night before and refrigerate it, all you have to do the day of is roll it out, fill, and bake!) Bottom right: Finally, for a boozy treat, How Sweet Eats' apple cider sangria is a fun autumnal take on a classic party drink.
Hopefully we have given you some inspiration, tricks, and tips to make your holiday memorable and stress-free! Do you have a favorite Thanksgiving recipe or decorations idea?
Nov 14 2013
By Leigh Roxas
There are many fun aspects of working at Paper Culture from our need to celebrate every holiday to brainstorming new products.  As you can imagine, the winter holiday season is very busy for us. In January, when we have a moment to breathe we look back and reflect on the past year. This includes time to look back at all the amazing and creative holiday cards our wonderful customers have designed. At any given moment, you'll hear the staff laughing, oohing and aahing, and sometimes even quiet from sheer shock.
Here are our top 4 favorites from 2012, in no particular order. Will you be on our 2013 favorites list?
Taking Swaddling to a New Level

Extra points for use of Photoshop. No baby was put in danger for this photo.
 When Hairy Met Sally
Life is a Beach
A Joyful Family
A big thanks to all of our customers for entrusting their holiday cards with Paper Culture! If you haven't done so already, we encourage you to check out our new 2013 holiday designs including Jumbo Holiday Cards. The larger card format is 8.9″ x 3.9″ and like all of our cards, is made with 100% post-consumer recycled paper. You'll find both photo and non-photo options with backs that will wow your family and friends just as much as the front. Be sure to taking advantage of our 20% off holiday cards this week as well as our ongoing FREE Mail-and-Address Service. Let us do the work. We will stamp, address and mail your cards for free. You only pay the cost of the stamp.
Happy Holidays!
Nov 6 2013
By Deb DeFanti
It's that time of the year again when you've got to decide whether or not to order holiday cards. Personally I get sad every year receiving fewer and fewer cards in the mail. There's nothing quite like coming home to a full mailbox of holiday greetings and warm messages from friends letting me know how their year went. E-cards just don't hold the same weight, literally and figuratively. Living in a time where e-mails are replaced by short tweets or Facebook messages, it's often easy to forget how nice it can be do get a real card in the mail.
Nov 23 2012
By Ariston
We recently showed you our favorite DIY paper masks for Halloween. But what if you have a newborn and don't want to throw away money for a costume on year zero? Fortunately all you need to celebrate the holiday with your newborn is an old onesie, a scrap of fabric, and some. Check out Rachel Low's costume templates to turn any onesie into a fun costume. You can even increase the pattern size with your printer and make a matching sweatshirt to wear out trick-or-treating.
Oct 17 2012
By Ariston
With 85% of textile waste going to landfills every year, Halloween can have a devastating effect on the environment. While it's tons of fun to pick out a costume and dress up, any family can make a night of crafting DIY costumes, and avoid creating unnecessary waste. Look around for wornout clothes, old sweats, or too-small garments. Many of today's costumes can be made by hand if you have a sewing machine. Or if you truly want to make something easy, consider making an easy paper mask to wear on top of a colorful outfit. Paper masks can be tons of fun for kids and adults to wear. There are lots of sites that offer outlines for you to print out. Just color them in, add some sequins and glitter and you're ready to go.  For masquerade style, glue it onto a stick, or for easy-wear just add an elastic band.
Oct 15 2012
By Ariston
Can a candy bar really be considered healthy? Probably not. But everyone needs a treat now and then. And if you're going to go down the candy aisle, bear in mind that there is a whole range of candy options from not-so-bad to pure chemical junk. You might as well go for something with minimal junk. Yet when it comes to getting a sugar fix, we don't always have time to go to the health food store to pick up a favorite like chocolate-covered organic almonds. One company is trying to change all that: Unreal.
Oct 9 2012
By Ariston
This Sunday is Mother's Day, the time of the year to honor the woman who gave us the most. Bamboo Wall Art makes a great Mother's Day present. Just choose your favorite photo of you and mom and upload. Customize with a variety of sweet designs. In addition to bamboo's wide-ranging green qualities, Paper Culture plants a tree with each order, so it's a win win. Click here for details. But perhaps you want to go even more DIY and make something from scratch for mom. Here are some easy ideas that will be sure to put a smile on her face.
May 8 2012
By Ariston
Recently, I was having dinner at my friends' house. They love to cook and I love to eat, so it works out well. They opened the Chardonnay that I had brought and poured it into these cute little glasses. Suddenly, I had one of those Proustian madeleine moments. I vividly remembered sitting at a table at a sidewalk café in Paris drinking Pernod out of those same glasses. We were discussing the brooms the street sweepers use in Paris that look like a witch should be riding on them, except for the fact that they are made out of brightly-colored plastic. Have you seen those brooms? I have never understood why they didn't change the design to be more like the conventional brooms you get in the U.S. when they started making them out of plastic. I wonder about this every time I see them. [read more]
Oct 5 2011
By Wendy
With Father's Day right around the bend, this week's posts will be dedicated to all the rad dads and soon-to-be-fathers out there. One of the things I remember fondly about my dad was his ability to make me laugh at all times. Even when times were tough! And I truly loved laughing with him. I found these videos of fathers and their families (many I'm sure you've already seen) and hope they bring a smile or belly laugh to you too:
The joy in all these videos is infectious. And I think it's so sweet that the children and dads are laughing at the simplest things. I only wish we could have so much fun with our fathers every day!
Jun 14 2011
By Souris