Archive for December, 2013
The New Year is considered to be a time of new beginnings. For many, this means a laundry list of resolutions to help improve oneself over the course of the next calendar year. But for a few lucky ones, ringing in 2014 also coincides with another life-changing beginning: the birth of a new baby.
The arrival of your bundle of joy is certainly a wonderful way to celebrate and bring in the New Year and taking and sending newborn photos is part of the fun! If you want to take some precious snapshots of your little one, we have a few tips and tricks to ensure that your baby's earliest days are captured perfectly. (Note: you will have best results with a point-and-shoot or DSLR, but these tips will help you take great shots even with a camera phone!)
1.)    The best time to do a newborn photo shoot is within two weeks of their birth. At this point, your baby will be able to spend most of the shoot in a deep sleep, so he/she will be much easier to pose and photograph. Feed baby just before the shoot, have some white noise playing in the background…do whatever you normally do to help him sleep!
2.)    Make sure baby is warm, as this will keep the baby comfortable! Have a heater in the room, pointed away from your little one. Swaddle the baby in between shots (just be sure to take a few photos of the baby wrapped up nice and cozy). Warm up your hands before using them to position the baby so that he/she won't be startled.
3.)    Shoot near a window, with good natural lighting. Don't put your baby directly in the light though; this will result in unflattering shadows being cast, or a harsh tone overall.
4.)    Keep backgrounds simple. White walls, blankets with no quilting or print. You want your baby to be the main focus. If you want to use some props, go for it, but be sure to get a good number of shots that focus solely on your baby!
5.)    Get down to baby's level. Lay the baby down on a bed or low table and kneel down beside it. This will result in tighter shots that bring the viewer closer to your newborn.
6.)    Is your baby sleeping? If you have a DSLR and a macro lens, now is the time to bring it out! Babies have the most precious little features: the tiniest hands and feet, chubby cheeks, rosy little lips. Focusing on these teeny details can give you adorable yet unique photos that capture all the  things you love about your little one. Since macro lenses are sensitive by nature, it's best to take these photos while your baby is in a deep sleep.
7.)    If your little one isn't the least bit sleepy, just go with it! Capturing your baby's yawns, stretches, and wiggles can also make for beautiful photos.
8.)    Relax! Babies can sense any frustration in a room, and this will make them uncomfortable and fussy. If you're not getting the shots you want, you can try another time, or just roll with her current mood and see what kinds of photos you get out of it. If possible, only shoot with yourself and the baby in the room, so as to avoid any distractions and help both of you relax a bit more.
9.)    Remember that the most beautiful newborn photographs are the ones that truly capture your newborn's mood and personality. Don't get caught up in imitating cute photos you've already seen.
10.)    Enjoy yourself! Your baby won't be this tiny for much longer. Savor the moment and have fun memorializing your newborn's early days.
Once you've done your photo shoot and selected a few of your favorite images, why not use them in your birth announcements? With clean modern design and sweet typography, Paper Culture's birth announcements are perfect for showcasing your beautiful newborn photographs.
Hopefully we've inspired you to pick up your camera and click away!
Did you do a newborn photoshoot? What are your favorite tips for capturing baby snapshots?
Dec 27 2013
By Leigh Roxas
"Tis the season and with the season comes festivities, decorating, gingerbread houses, cookie making and of course, holiday shopping. Is your gift list growing and your ideas dwindling? Sometimes it's hard to find a perfect gift especially when you are buying for so many different people whether it is your kid's teacher, your friend's holiday party or stocking stuffer gifts for the family. With this in mind, we've added three new personalized gifts including the Memory Game, personalized ornaments and coasters. We are so excited about these new items. These are all printed on 100% post-consumer recycled paper and as always, every order plants a tree. In addition to these new gifts, we have other personalized gifts that will make your recipients smile with your thoughtful present.
The gift will be a hit with both kids and adults. You have many different front card choices and colors including modern patterns, whales, flowers and many more. Simply select your front and upload 16 unique photos and you'll have your personalized memory game. So much more fun and personalized then using a deck of cards, don't you think?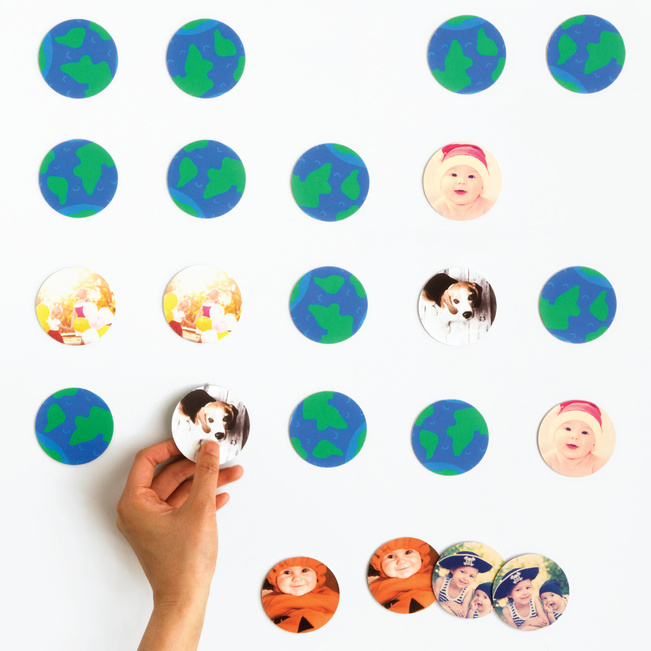 Nothing personalizes a tree more than photos of your family and friends. It's a great way to capture memories from the past years and relive them during the holiday season. Surprise someone special with their own set of 12 ornaments. Start a new tradition and update the photo coasters each year.
These personalized coasters are a fun hostess gift.  You can select from several different front designs and then upload up to 12 unique photos. They are also a great addition to any event from bridal showers to weddings.
If you want to give a personalized gift without photos, stationery is a great option. Having nice thank you and note cards on hand is always greatly appreciated. Browse designs for corporate gifts, teachers and personal stationery for adults as well as kids.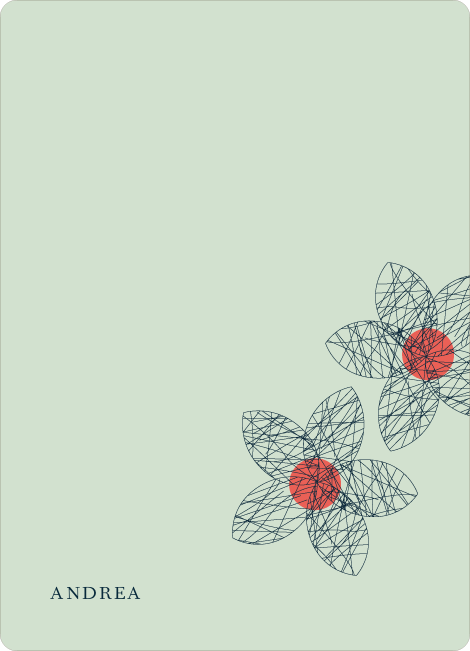 Choose from a number of wall decals featuring designs for kids and adults. You'll find an option for everyone from different designs, colors and number of photos. These custom wall decals will brighten up any space and are removable and repositionable. Unlike most wall decals, these do not contain phthalates or PVC's but made with eco-friendly fabric.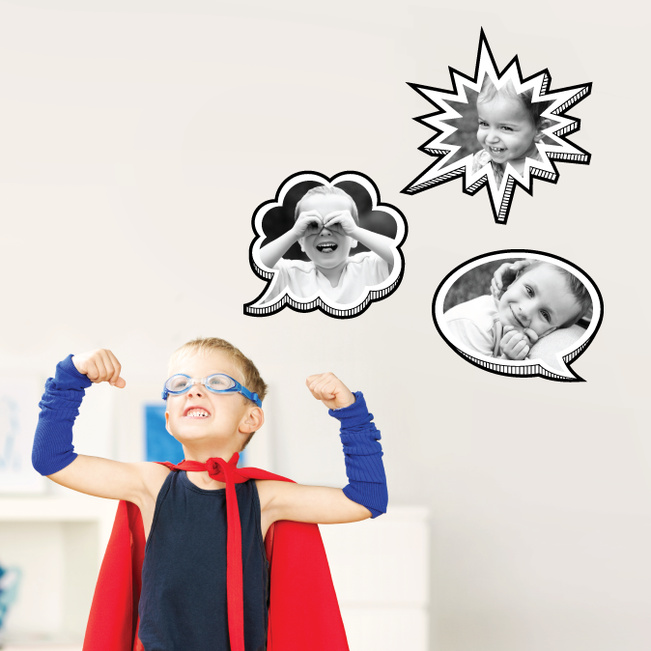 If you are looking for a really unique gift for the wall, our bamboo wall art is for you. Made of bamboo, one of the fastest growing plants in the world, is not only stunning but is very durable and will display your photo beautifully. You can upload your own design or choose from one photo or multiple photo layouts.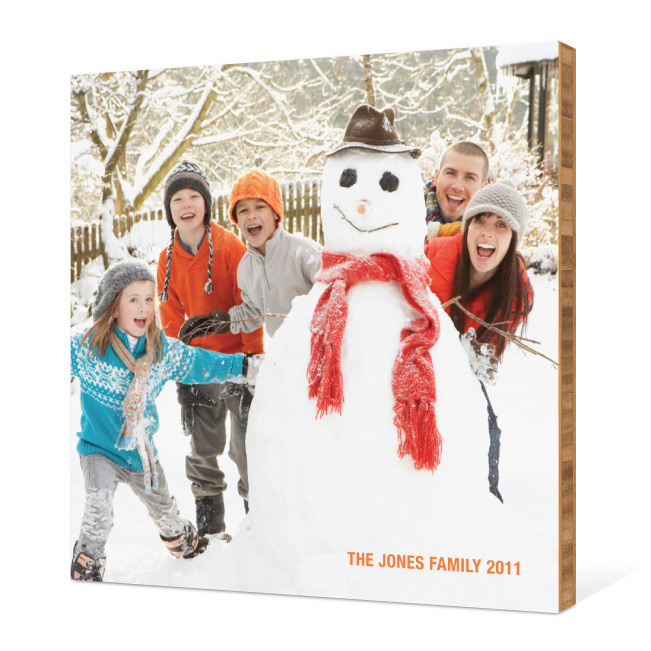 Let us know what you chose.
Happy Holidays!
Dec 11 2013
By Deb DeFanti