We are obsessed with trees and paper at Paper Culture. That's why the company was founded with the mission to design beautiful products inside and out using eco-friendly materials. All of our cards are made from 100% consumer recycled paper so no trees are harmed. We use bamboo for wall art as it's one of the fastest growing renewable resources and 100% recycled fabric for our wall decals. In addition, we send your order in a #ReversibleBox which contains tree seeds for you to plant your own trees. We extend this ethos to our corporate office choosing earth friendly cleaning and paper products and energy efficient appliances.
This Earth Day and every day we celebrate trees, the unsung heroes. Trees provide protection, economic empowerment, food, stability, clean air, medicine, fuel, and so many other things we need and use daily. And of course, they are beautiful and peaceful. More than ever, reforestation is needed around the globe.
Paper Culture has planted over 350,000 trees to date in areas where reforestation is needed the most. The New York Times article, Restored Forests Breathe Life Into Efforts Against Climate Change noted that "Over time, humans have cut down or damaged at least three-quarters of the world's forests, and that destruction has accounted for much of the excess carbon that is warming the planet." Photo credits include Sean Conroe for the Wangari Maathai photo and Trees for the Future for the bottom photo shown.
– Paper Culture
Apr 22 2015
By Deb DeFanti
It's hard to believe it's that time of year again! It feels like we just posted last year's Staff Favorite Holiday Cards. As you can imagine, it's very rewarding to see how creative our customers can be. There are lots of oohs and aahs, laughs and 'no ways' as our team goes through the cards to make sure they look just right.  If you are at a loss for photo ideas or looking for something different this year, be sure to check out our holiday photo card ideas for inspiration.
Two dogs and a Toddler
Just Another Day
 LL Cool J's
When the Circus Came to Town
 Pure Bliss
Say Peace
We hope you enjoyed this year's selections! We certainly did. As always, we offer free design assistance even before you purchase so don't be shy about taking us up on that. All of our cards are made of 100% post-consumer recycled paper so no trees are cut down. In addition, we plant a tree with every order with over 300,000 trees planted to date. We like to say our cards are pretty inside and out.
Will yours be on our next year's list?
Oct 20 2014
By Deb DeFanti
Last week was both Earth Day & Arbor Day and Paper Culture celebrated these holidays in style! As many of you know, both these holidays have a very special meaning to Paper Culture. It has been our mission since our launch to not only build a sustainable business but one that also leaves our Earth in a better place as a result. We do this through using 100% post-consumer recycled paper for our cards and eco-friendly materials for our other products such as bamboo wall art and wall decals. In addition, we plant a tree with with every order with over 300,000 trees planted to date because of our wonderful customers. Trees are so important to our ecosystem for many reasons from the oxygen we breath to protecting endangered species through a natural habitat. Make sure you read our infographic for facts that will WOW you on the benefits of a tree.
We celebrated Earth Day at the City Hall of Millbrae where Paper Culture received a Commendation from the city for being a CoolCalifornia.og Climate Leader Winner. Can you guess what the Paper Culture team did on Arbor Day? We partnered with Spring Valley Elementary School in Millbrae to plant some trees and do a talk with the 4th grade students. These students were so inspiring and engaged from the questions they asked to seeing their impressive school garden.
Of course, we couldn't plant trees without the appropriate attire. We always say, ordering with Paper Culture is as easy as One, Two, Tree since every order plants a tree.
The entire week had been sunny in the Bay Area and on the day of Arbor Day it was pouring rain. We decided we were not going to let this stop us. By the time we arrived at the school, the storm had passed and the rain made it easier to dig. We dug the holes, prepped the trees and then were ready for the students to help us fill in the holes. They were so excited to be a part of the process.
We were lucky enough to have time with all the 4th grade students. First our CEO chatted with the kids about being a sustainable company and  the importance of being eco-friendly, trees and reforestation. After the talk, our Co-founder and Head of Design taught the students how to make origami trees out of recycled paper. It was a hit and the kids loved the forests they made.
The day was so special for all of the Paper Culture team members. We owe a very special thanks to Joel Wheeler who is one of the 4th Grade Teachers who helped put this together.
Also, a quick review of the history of these two holidays.
Earth Day – The first Earth Day was on Apri. 22, 1970 in America to draw attention and promote the environmental movement. Since then it has activated more than 1 billion people to get involved in Earth Day activities. The Earth Day Network was created as a result to continue the promotion of the movement around the world.
Arbor Day – It was started by a pioneer  in Nebraska named J. Sterling Morton. He and his fellow pioneers missed their trees along with needing them to keep soil in place and provide shade. On January 4, 1872 Morton first proposed a tree planting holiday called 'Arbor Day' to be celebrated on April 10, 1872. It was estimated more than 1 million trees had been planted. It eventually was named a legal holiday in Nebraska 1885 and other states adopted the holiday. Today the most common date for the state observance is the last Friday in April but some states observe it with the best tree planting weather. See full history at the Arbor Day Foundation.
How did you celebrate?
May 2 2014
By Deb DeFanti
The New Year is considered to be a time of new beginnings. For many, this means a laundry list of resolutions to help improve oneself over the course of the next calendar year. But for a few lucky ones, ringing in 2014 also coincides with another life-changing beginning: the birth of a new baby.
The arrival of your bundle of joy is certainly a wonderful way to celebrate and bring in the New Year and taking and sending newborn photos is part of the fun! If you want to take some precious snapshots of your little one, we have a few tips and tricks to ensure that your baby's earliest days are captured perfectly. (Note: you will have best results with a point-and-shoot or DSLR, but these tips will help you take great shots even with a camera phone!)
1.)    The best time to do a newborn photo shoot is within two weeks of their birth. At this point, your baby will be able to spend most of the shoot in a deep sleep, so he/she will be much easier to pose and photograph. Feed baby just before the shoot, have some white noise playing in the background…do whatever you normally do to help him sleep!
2.)    Make sure baby is warm, as this will keep the baby comfortable! Have a heater in the room, pointed away from your little one. Swaddle the baby in between shots (just be sure to take a few photos of the baby wrapped up nice and cozy). Warm up your hands before using them to position the baby so that he/she won't be startled.
3.)    Shoot near a window, with good natural lighting. Don't put your baby directly in the light though; this will result in unflattering shadows being cast, or a harsh tone overall.
4.)    Keep backgrounds simple. White walls, blankets with no quilting or print. You want your baby to be the main focus. If you want to use some props, go for it, but be sure to get a good number of shots that focus solely on your baby!
5.)    Get down to baby's level. Lay the baby down on a bed or low table and kneel down beside it. This will result in tighter shots that bring the viewer closer to your newborn.
6.)    Is your baby sleeping? If you have a DSLR and a macro lens, now is the time to bring it out! Babies have the most precious little features: the tiniest hands and feet, chubby cheeks, rosy little lips. Focusing on these teeny details can give you adorable yet unique photos that capture all the  things you love about your little one. Since macro lenses are sensitive by nature, it's best to take these photos while your baby is in a deep sleep.
7.)    If your little one isn't the least bit sleepy, just go with it! Capturing your baby's yawns, stretches, and wiggles can also make for beautiful photos.
8.)    Relax! Babies can sense any frustration in a room, and this will make them uncomfortable and fussy. If you're not getting the shots you want, you can try another time, or just roll with her current mood and see what kinds of photos you get out of it. If possible, only shoot with yourself and the baby in the room, so as to avoid any distractions and help both of you relax a bit more.
9.)    Remember that the most beautiful newborn photographs are the ones that truly capture your newborn's mood and personality. Don't get caught up in imitating cute photos you've already seen.
10.)    Enjoy yourself! Your baby won't be this tiny for much longer. Savor the moment and have fun memorializing your newborn's early days.
Once you've done your photo shoot and selected a few of your favorite images, why not use them in your birth announcements? With clean modern design and sweet typography, Paper Culture's birth announcements are perfect for showcasing your beautiful newborn photographs.
Hopefully we've inspired you to pick up your camera and click away!
Did you do a newborn photoshoot? What are your favorite tips for capturing baby snapshots?
Dec 27 2013
By Leigh Roxas
"Tis the season and with the season comes festivities, decorating, gingerbread houses, cookie making and of course, holiday shopping. Is your gift list growing and your ideas dwindling? Sometimes it's hard to find a perfect gift especially when you are buying for so many different people whether it is your kid's teacher, your friend's holiday party or stocking stuffer gifts for the family. With this in mind, we've added three new personalized gifts including the Memory Game, personalized ornaments and coasters. We are so excited about these new items. These are all printed on 100% post-consumer recycled paper and as always, every order plants a tree. In addition to these new gifts, we have other personalized gifts that will make your recipients smile with your thoughtful present.
The gift will be a hit with both kids and adults. You have many different front card choices and colors including modern patterns, whales, flowers and many more. Simply select your front and upload 16 unique photos and you'll have your personalized memory game. So much more fun and personalized then using a deck of cards, don't you think?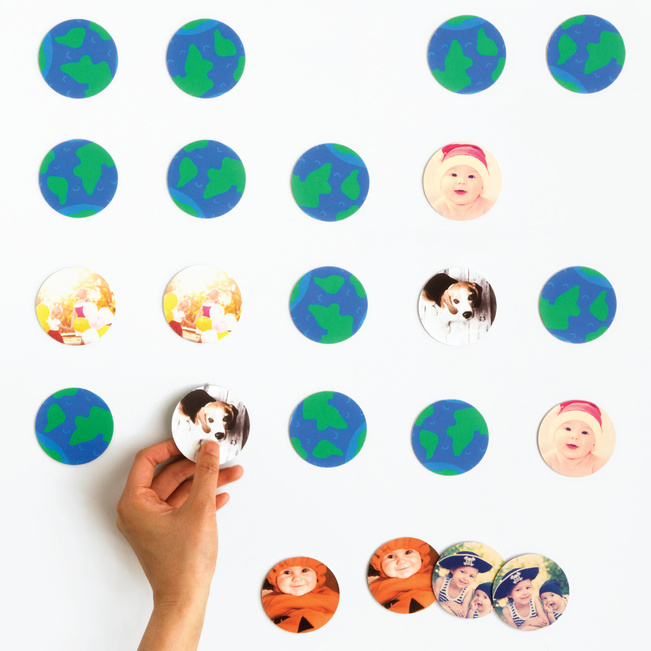 Nothing personalizes a tree more than photos of your family and friends. It's a great way to capture memories from the past years and relive them during the holiday season. Surprise someone special with their own set of 12 ornaments. Start a new tradition and update the photo coasters each year.
These personalized coasters are a fun hostess gift.  You can select from several different front designs and then upload up to 12 unique photos. They are also a great addition to any event from bridal showers to weddings.
If you want to give a personalized gift without photos, stationery is a great option. Having nice thank you and note cards on hand is always greatly appreciated. Browse designs for corporate gifts, teachers and personal stationery for adults as well as kids.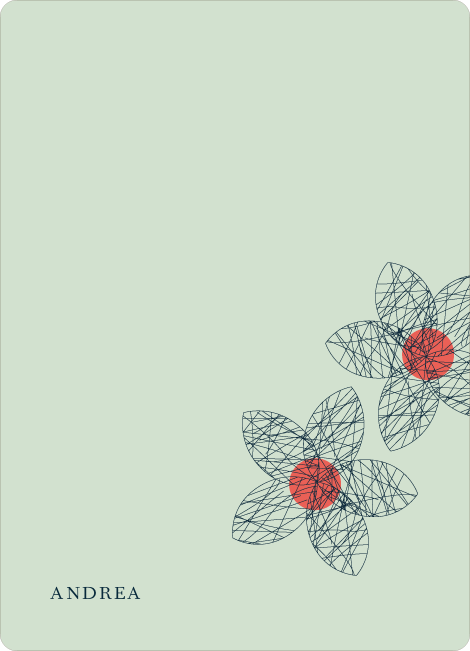 Choose from a number of wall decals featuring designs for kids and adults. You'll find an option for everyone from different designs, colors and number of photos. These custom wall decals will brighten up any space and are removable and repositionable. Unlike most wall decals, these do not contain phthalates or PVC's but made with eco-friendly fabric.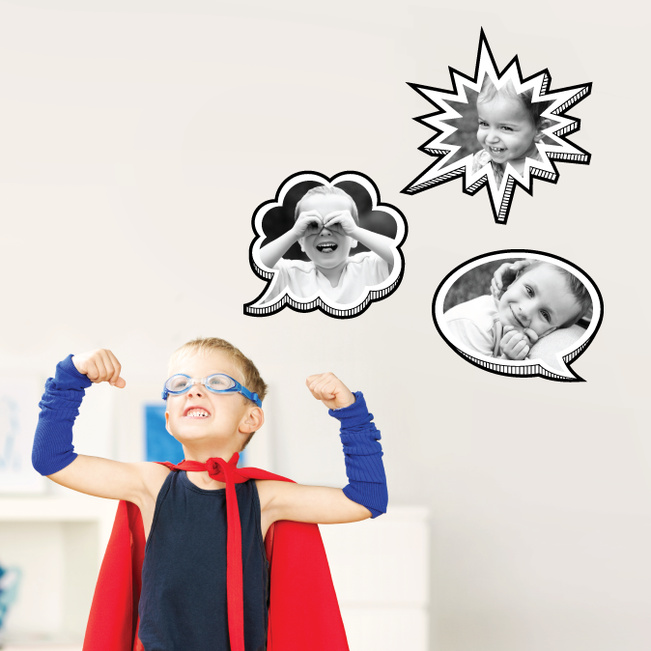 If you are looking for a really unique gift for the wall, our bamboo wall art is for you. Made of bamboo, one of the fastest growing plants in the world, is not only stunning but is very durable and will display your photo beautifully. You can upload your own design or choose from one photo or multiple photo layouts.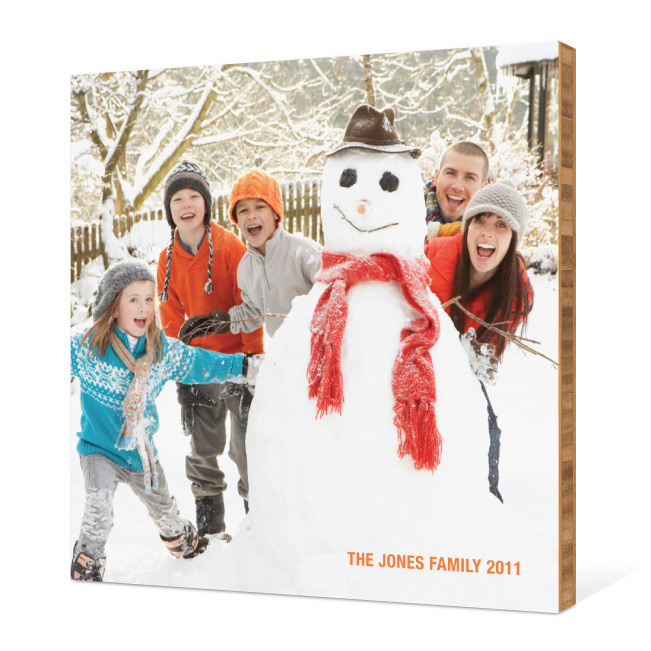 Let us know what you chose.
Happy Holidays!
Dec 11 2013
By Deb DeFanti

As many of you know, part of Paper Culture's environmental commitment is that we plant a tree for every order and every new Facebook fan. In fact, we've pledged to plant 1,000,000 trees. We try to respond to each question individually, but we thought we'd try to consolidate some of our answers in a blog post for posterity.
[read more]
Nov 26 2013
By Christopher
Thanksgiving has become my favorite holiday. The warm autumn colors, the chance to share love and thanks with my family and friends, and of course, the wonderful feast. Unfortunately, many people find Thanksgiving to be a stressful ordeal. It doesn't have to be! From invitations, to decorations, to the dinner menu, we have a few ideas to make your Turkey Day festive, delicious, and hassle-free!
To get started, check out our Thanksgiving invitations. We have several different options available for you to customize and match to your dream holiday gathering. We can even address and mail them out for you!
Once your invitations have hit the printing press, you can move on to planning your decorations. I am always inspired by fall's brilliant and rich colors. Autumn leaves and gourds make for eye-catching yet simple décor.
(Photo credit: Better Homes & Gardens, Martha Stewart)
Left: For a beautiful table runner, get inspired by this beautiful photograph from Better Homes and Gardens. Find a few small pumpkins from the local pumpkin patch, line them up down the center of your table, and weave a matching ribbon around them. You can even add branches, greenery, or a garland for an extra burst of color! Top right: I love these place cards from Martha Stewart. The leaves are perfect for any autumn tablescape, and the chalkboard look is very in right now! Best of all, they're incredibly easy to make. Bottom right: Set the mood for a warm dinner with your loved ones with these painted glass votive candle holders, also from Martha Stewart. This would be a fun DIY project (the link will give you simple instructions,) but if you're pressed for time (or aren't feeling very artsy,) go ahead and purchase some glass votives in your favorite fall colors.
Planning and preparing dinner may be the most anxiety-inducing part of the holiday! However, if you schedule carefully, and do everything that you can ahead of time, it's a lot easier to bring the meal together.  Food Network has a great Thanksgiving planning guide to help you out. If you plan things just right, you'll spend less of Thanksgiving in the kitchen, and more of it mingling with your loved ones!
Here's a few favorite recipes to add to your holiday menu!
(Photo credit: The Pioneer Woman, Simply Recipes, Smitten Kitchen, How Sweet Eats)
Top left: A juicy and flavorful roasted turkey (and brine,) courtesy of The Pioneer Woman. She even includes step-by-step photos and instructions! Bottom left: My favorite tip for the perfect mashed potatoes: use a potato ricer! It's difficult to smooth out all the lumps out with a fork or potato masher, and using a hand mixer can result in a gluey texture. A potato ricer delivers smooth, creamy, fluffy results, and it's much faster than a regular potato masher! Try Simply Recipes' garlic mashed potatoes for a delicious yet simple take on this traditional side dish. (Another tip: throw the roasted garlic in with the potatoes into the ricer to avoid large garlic pieces.) Top right: For dessert to feed a crowd, Smitten Kitchen takes her go-to apple pie recipe (my personal favorite) and turns it into an entire sheet of pie! (Tip: apple pie is always best the day it's made, but if you premake the crust the night before and refrigerate it, all you have to do the day of is roll it out, fill, and bake!) Bottom right: Finally, for a boozy treat, How Sweet Eats' apple cider sangria is a fun autumnal take on a classic party drink.
Hopefully we have given you some inspiration, tricks, and tips to make your holiday memorable and stress-free! Do you have a favorite Thanksgiving recipe or decorations idea?
Nov 14 2013
By Leigh Roxas
There are many fun aspects of working at Paper Culture from our need to celebrate every holiday to brainstorming new products.  As you can imagine, the winter holiday season is very busy for us. In January, when we have a moment to breathe we look back and reflect on the past year. This includes time to look back at all the amazing and creative holiday cards our wonderful customers have designed. At any given moment, you'll hear the staff laughing, oohing and aahing, and sometimes even quiet from sheer shock.
Here are our top 4 favorites from 2012, in no particular order. Will you be on our 2013 favorites list?
Taking Swaddling to a New Level

Extra points for use of Photoshop. No baby was put in danger for this photo.
 When Hairy Met Sally
Life is a Beach
A Joyful Family
A big thanks to all of our customers for entrusting their holiday cards with Paper Culture! If you haven't done so already, we encourage you to check out our new 2013 holiday designs including Jumbo Holiday Cards. The larger card format is 8.9″ x 3.9″ and like all of our cards, is made with 100% post-consumer recycled paper. You'll find both photo and non-photo options with backs that will wow your family and friends just as much as the front. Be sure to taking advantage of our 20% off holiday cards this week as well as our ongoing FREE Mail-and-Address Service. Let us do the work. We will stamp, address and mail your cards for free. You only pay the cost of the stamp.
Happy Holidays!
Nov 6 2013
By Deb DeFanti
Spring has been slowly unveiling itself since Daylight Savings was ushered in last weekend. What better way to welcome the season than with some fun ideas of throwing a spring party to welcome new life, growth and birth. Whether you're celebrating it in remembrance of the resurrection or in the spirit of gift-giving and Easter egg hunts, here are some modern and eco ideas on how to throw a refreshing spring party.
Mar 18 2013
By Tammy
It's that time of the year again when you've got to decide whether or not to order holiday cards. Personally I get sad every year receiving fewer and fewer cards in the mail. There's nothing quite like coming home to a full mailbox of holiday greetings and warm messages from friends letting me know how their year went. E-cards just don't hold the same weight, literally and figuratively. Living in a time where e-mails are replaced by short tweets or Facebook messages, it's often easy to forget how nice it can be do get a real card in the mail.
Nov 23 2012
By Ariston